Surely the distinguished American entrepreneur Gary Vaynerchuk doesn't require an introduction. This is because his achieved successes in the field of Social Media speak for itself. Chances are high that you've already seen some of his Social Media content in the past or that you are one of his millions of online followers. This is the exact reason why this Creator Friday article is dedicated to Gary Vaynerchuk. We've analyzed his Social Media channels, blogs, and videos and listed his most important content advice in this article for you as a content creator.
#1 Add value
"You need to spend all of your time and energy on creating something that actually brings value" - Gary Vee
"Watch this video and gain 10,000 followers in one week!" Sure, a title like this immediately grabs your attention, but how tricked do you feel when you find out that the video contained nothing but random advice without providing you with any proper tools? If you are unable to create content that meets the expectations and needs of your audience, it will not be beneficial for anyone. This is why Gary Vaynerchuk is an advocate of adding a high value to online content. He is a pioneer in creating content that his audience considers valuable and important. For instance, his website www.garyvaynerchuk.com is loaded with detailed advice on multiple topics. On his online platforms, you can find all sorts of guidance; from comprehensive content distribution strategies to advice on how to start a business. His advice is always backed up with his own entrepreneurial experiences.
The audience of Gary Vaynerchuk either feels inspired, motivated or informed after consuming his content. This is why they return to him and eventually become fans. We encourage you to think about your added value as a content creator. Not only the value for one single piece of content but your overall added value. Use this added value as a strategy, communicate about it in every possible way and never forget the Gary Vaynerchuk approach: "Give, give, give, then ask."
#2 Platform optimized content/native content
"Respect your platforms" - Gary Vee
It can be rather tempting to share one piece of content on as many online platforms as possible. The more platforms you post your content on, the higher your chances of success, right? Well, not according to Gary Vaynerchuk, who advises avoiding this as much as possible. He stresses that every online platform has its own characteristics that content creators should use to their advantage. For example, every online platform has users with a different 'content-diet'. When sharing online content, you should always keep in mind how platform users wish to consume content. Unsure how to do this? Check out Gary Vaynerchuk's platforms! He continuously shares unique content, adjusted to the platform he posts it on. This is all part of his ingenious strategy on how to use your time as a content creator as efficiently as possible and still approach every online platform differently.
An important aspect of Gary Vaynerchuk's platform strategy is the use of micro-content on multiple platforms. For this, you first have to create a longer piece of online content, which will be the base of all of your micro-content. This longer piece can be a written article, a podcast or, for the vloggers and filmmakers among us, a video. Next, it is important that you decide per platform how you are going to communicate the main message of your longer content piece to your audience.
Lastly, once you have established a plan for this approach, it is time to create your micro-content based on the longer piece you've created earlier. Distribute these different pieces on your channels and monitor their reach and feedback. Gary Vaynerchuk often places short videos on Instagram containing brief advice. The videos can be consumed separately, but they still relate to the message of, for instance, the longer podcast in which a more elaborated version of the advice is provided. By following this process, you can take advantage of the algorithm and audience of an individual platform.
The success of Gary Vaynerchuk's online content largely rests on his platform and distribution strategy. He often shares and displays a single piece of content in tens of different ways and uses multiple platforms in the process. On his website, he reports that one single keynote once resulted in 30 different pieces of micro-content. In total, this online content delivered him 35 million views on more than 20 different platforms. An efficient and effective strategy, that also contributes to the branding of your name as a content creator. By divergently communicating on one specific theme, people are more likely to associate you with the concerning themes and are therefore more likely to return to your online content.
If we've left you hungry for more information on how to optimize your platform and distribution strategy, you can check out Gary Vaynerchuk's content pyramid. Also, on his website, you can find a full presentation on content distribution.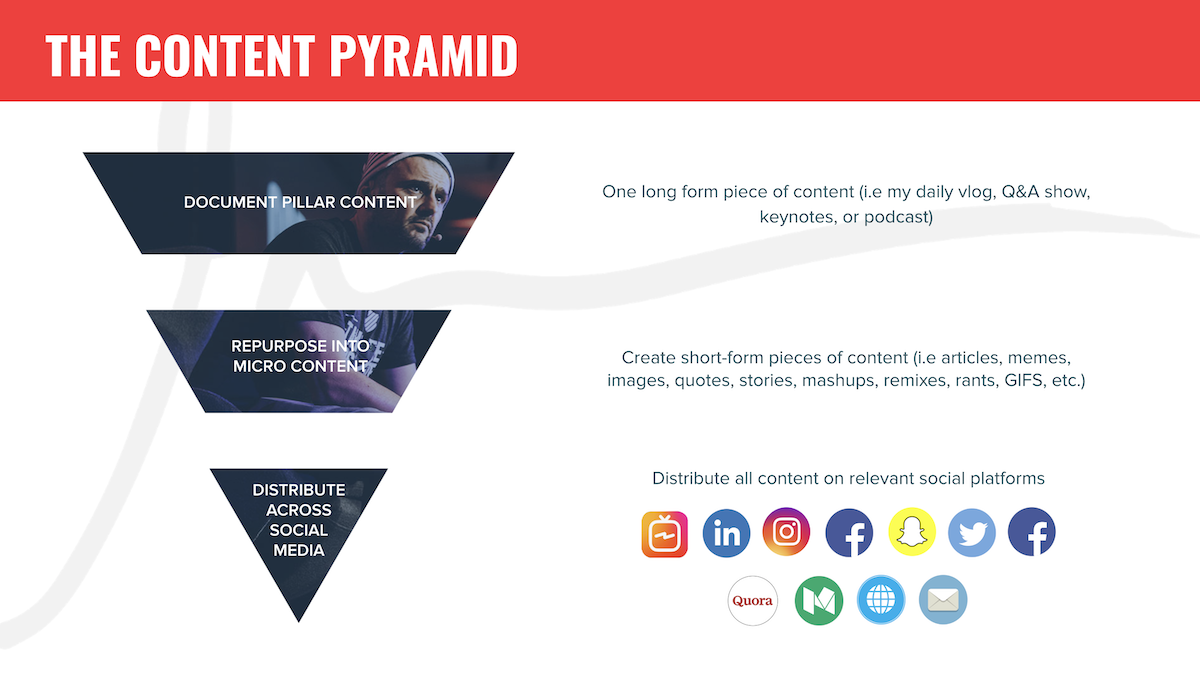 #3 Be authentic
"Don't be a Social Media character" - Gary Vee
Everyone that sees Gary Vaynerchuk's online content immediately notices that he consistently remains his authentic self. People either criticize or praise him for this, with little, to nothing in between. Gary Vaynerchuk has often mentioned that whatever people might say about him, he basically couldn't care less.
For example, he considers cursing and swearing to be part of his personality and therefore part of his online content. If you are in need of some new swear words, we recommend the videos of Gary Vaynerchuk, who takes "authenticity" to a new level. Obviously, swearing in your online content isn't the secret recipe for increasing your Social Media reach (news flash) if it's not a part of who you truly are as a creator. But it does show the importance of deciding what distinguishes you as a person and creator. Take your definition of authenticity and place it at the center of all your online content. Build your brand around this center and remain consistent in what you produce. Or as Gary Vaynerchuk would say: "Don't fake it till you make it, because there is too much content."
#4 Be patient
"Patience is grossly underestimated." - Gary Vee
Gary Vaynerchuk believes in the power of being patient and that patience is the mother of success. In one of his articles on Medium, he says: "You must believe that life is long! There are just wayyy too many of you acting like it "ends tomorrow" and that, if you don't "get there" right this second, then you never will. That if you don't get that promotion, raise, introduction, car, watch or vacation then you never will. Trust me... It's not true!"
Source: https://medium.com/@garyvee/21-times-patience-was-this-answer-4b31bace10c5
The same goes for achieving success for you as a content creator. Unfortunately, there is no shortcut to success, which stresses the importance of patience and the fact that you should believe in your abilities and the work you produce as a content creator. Gary Vaynerchuk links a lack of patience with insecurity, where people desire instant recognition. They want to prove themselves so bad that they become impatient. Being patient can serve as a tool for many content creators to focus on the joy of creating content, rather than the pressure of getting quickly from A to B. If you want to learn more on the importance of patience, we recommend you sit back, relax and take your time watching this video of Gary Vaynerchuk.
#5 Progress, not perfection
"You just have to make the choice to actually do it." - Gary Vee
A final piece of advice, as provided by Gary Vaynerchuk, that we would like to share with all content creators, is that progress is better than perfection. Especially for those of you who recently started creating content, it is of high importance to continuously learn new skills and improve your work. It is for this reason that you should not spend all your time on creating the perfect piece of content. Because if you don't publish your work, you won't know whether it is "perfect" or not. And besides, practice makes perfect.
By sharing your content and learning from the feedback provided by your audience, you will learn and grow as a content creator. This will improve your skills more than repeatedly overthinking your work. In one of his articles, Gary Vaynerchuk argues the following: "Too many "content creators" think that they only have one at-bat — they have to make the one, most beautifully created video or image or rant on Facebook. But what they don't realize is that their hunger to make the perfect piece of content is what's actually crippling them."
Source: https://www.garyvaynerchuk.com/creating-content-that-builds-your-personal-brand/

We can endlessly share Gary Vaynerchuk's strategies, but we believe that the 5 tips in this article contain his most important lessons for every content creator. If you too have any advice for content creators, don't hesitate to share them! Also if you are interested to monetize your content, check our website https://uhmi.io. See you on the next Creator Friday.